loz

this is my Half-Nekkid Thursday blog. here you can find some of the parts of me that you might not find on my main blog, which is mostly appropriate.






click the image above for Half-Nekkid Thursday guidelines
or... visit Osbasso's HNT headquarters

my blogdrive profile




the nipple poll!

if you'd like to link to the nipple poll, right-click on the image above, click 'save image as' on the menu, and save the image to your hard drive. put the image on your webpage and link it to this URL: http://lozwordz.blogdrive.com/archive/12.html

visitors
my camarades cam indicator:
(click it if it shows 'cam online')




something to say privately? you can...


My blog is worth $4,516.32.
How much is your blog worth?
Thursday, February 15, 2007
coming out of the closet

| | |
| --- | --- |
| | ...at last |
| and all ready to go | |
March 4, 2007: edit to add these new pictures of the same shoes - pics kindly & very wonderfully fixed up by the very talented
SeaRabbit of Seablog
- thank you so much Jo!
| | |
| --- | --- |
| | |
| | |

I'm so glad I can share these here now; I love these shoes. I know just where I most want to wear them, too. even though I might not be able to walk very well in these (yet - it's been years since I've worn heels so high), I'd be happy to put them on & lay back while you take me there.

thank you to the One who gave me these shoes - this one's for you. for more reasons than just the shoes, you have a special place in my heart (awww, it's a VD reference too, though a day late).

it's times like this that I most wish I had either an assistant to help with taking pics or at least better lighting in which to portray the subject. I'd love to display these shoes to their best advantage (of course I'd need thinner calves/legs for that too, but that's a whole other matter). anyway, these are my favourite shoes hands/feet down, and ever since I've had them they've sparked a renewed interest in shoes; they got me starting to notice & appreciate shoes again, all over the place. my
entry honouring red shoes
was a pale substitute for these shoes, truly.


happy hnt (and post-VD day) to all.
--------------------------------------------------------------------------------

more people on Half-Nekkid Thursday
(click above)


Posted at 09:58 am by
loz
take-away link
Thursday, February 08, 2007
beneath the surface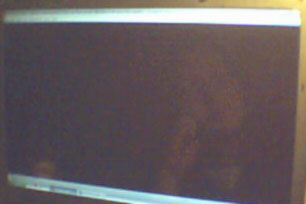 the last week or two has been a rather difficult time for me. my family & I are going through some changes & re-organising of our time, due to some difficulties we've had to work out. basically I've wanted nothing more than to hide away and just try to weather the storm, which is what I've done for the most part. I've made progress (for myself as well as with my family) & what you see above is most definitely a relfection of this whole period of time: me, rather fuzzy & hard to catch hold of, hiding in a corner behind the scenes; thoughtful and reflecting on life and how best to proceed from here.

thanks to a number of factors, I seem to be on the bounce-back now. it's truly a relief to get some things settled and to have other things to dream towards. sometimes, the only way to move forward is to tear something apart & put the pieces back together in the way that they make the most sense.

here's to having life get back to a more even keel over the next little while, again - and more time/thought put into my hnt to make it half-ways interesting again, haha.


happy hnt to everybody.



--------------------------------------------------------------------------------

more Half-Nekkid Thursday people
(click above)


Posted at 11:30 am by
loz
take-away link
Friday, January 26, 2007
...but still reflecting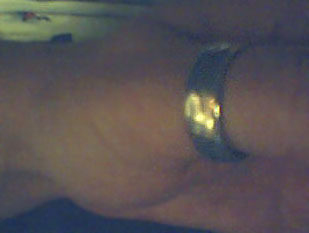 I've spent some time in recent days reflecting on the various types of relationships I have in my life; I've also pondered love and what I think & feel about it, how I experience it, in all its guises. the ring pictured here symbolises one of my on-going and treasured relationships. I rarely take it off, and the relationship itself is

always

with me. in general (the circular, unbroken shape) as well as in this case specifically, I feel that a ring symbolises the ever-lasting continuity in a relationship. since this ring reflects me (literally though nearly invisibly, in the picture) and one of my on-going relationships, and since I've been pondering the nature of my various relationships & such this last week, I've used the ring for this hnt.

my ring is one in a set of two that are 'matching'; while there may be tiny differences unseen by the naked eye, the material and pattern of this ring are identical to the second ring in the set. the other ring resides on an index finger attached to my friend
Peter
, while mine lives on my thumb.

initially the two rings were bought as a kind of visual symbol of the bond between Peter & I; besides our friendship we share a love of silly shiny things, and we have another bond called
ink1
; you may have heard some of ink1 or know of it through a
past hnt entry
. technically
- since ink1 was brought into this picture - there should have been three rings in the set because my other dear friend
Michael
is the third in our triad of ink1 core members. Michael didn't end up receiving a ring though; since he's married I felt it might be inappropriate to give him a ring & thought I'd conjure up something else to give him as symbol of our ink1 bond. in the end I figured it was okay to regard the two rings just as symbols of the friendship Peter & I share, regardless of ink1.

I've been sitting here trying to decide how to proceed with this train of thought, but my thoughts about love, relationships and continuity in same are still currently a bit jumbled. I think I'll actually refrain from going on here about all my recent ponderings and I'll leave you now with this statement of the overall concept that seems to - mostly - sum up my thoughts:

our relationships are forever (in the broadest sense), and all are connected in one way or another. the past, present and future join seamlessly in the river of time, and our relationships carry us through and might just be symbolic of - and/or partially responsible for - how we participate in everything else we experience along the way.

perhaps I'll enlarge on this concept another time; perhaps not. it's something I want to consider further, though if I do so in writing at all it'll most likely end up on my main blog - which is
mostly appropriate
- in the end.

sorry, this has been rather rambling & disjointed when initially I had planned to write more specifically, but that's really how my thoughts have been in the last couple of days. the fact that I'm only just posting this week's hnt entry - almost two days late! - pretty much reflects how things have been going recently for me. oh well.

happy hnt - belatedly - to all.



--------------------------------------------------------------------------------

more Half-Nekkid Thursday people
(click above)


Posted at 10:39 pm by
loz
take-away link
Thursday, January 25, 2007

I'll be late posting today's hnt - late as in, I'll actually be posting it ON Thursday, and later in the day, rather than posting late Wednesday night & visiting everyone directly afterwards.

if you've come by to see my hnt today - thank you :) - please come back again on Thursday late (I'm in Canada eh, so my time is already behind many other places). I'll be visiting all my usuals later than usual too.

meantime, happy hnt!



Posted at 05:10 am by
loz
take-away link
Thursday, January 11, 2007
hnt : 1st year anniversary
January 13, 2006 - January 13, 2007
Using your mouth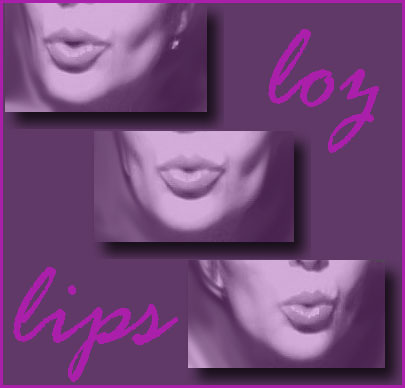 Your sexual hidden talent is your ability to use your mouth. You are incredibly sensual, a great kisser and a seductive lover. You drive all of your partners crazy with your mouth.

Take this quiz at QuizUniverse.com
--------------------------------------------------------------------------------



I do these silly quizzes sometimes - they amuse me - so that's what you see above, but using my own picture.

I can't attest to the complete accuracy of the quiz's statements, but I can at least confirm that lovers have enjoyed my mouth - and what I can do with it - in varied ways. I'm happy for my mouth because of all I can and will do with it, and because I love the way my lips are shaped as well as the great pleasure I can get and give, in using these lips in different ways.



I wanted to do something at least

a bit

different or special for this occasion since I'm celebrating (so to speak) my first year of taking part in Half-Nekkid Thursday. the purpleness is in honour both of the fact that I luurrrve the colour purple, and that Polt does too; he reminded me - when I asked last week for ideas - that something purple would be most appropriate. my mouth is one of my favourite facial features, so I used it for this special HNT.

afternote: I just found out that hnt has been suspended (since Tuesday this week... this is what I get for not checking into Os' blog often enough besides on Thursdays after I post my hnt) this week due the death of an hnt participant - betchacantguesswho - who was friend to many. I didn't know her, but I've seen her around the community & visited her blog on occasion. she was just 25... tragic loss of yet another young life. my sympathies to all betcha's friends & family who are mourning her loss.

I'll just leave this up for next week then, which is fine anyway since my actual hnt anniversary is on the 13th, between today's & next week's hnt. if you've come by to visit and/or comment you can feel free to do so now or come back next week, whichever you prefer.



--------------------------------------------------------------------------------

more Half-Nekkid Thursday people
(click above)


Posted at 04:03 am by
loz
take-away link
- - - - - - - - - - - - - - - - - - - - - - - - - - - - - - - - - - - - - - - - - - -




- - - - - - - - - - - - - - - - - - - - - - - - - - - - - - - - - - - - - - - - - - -