Thursday, August 31, 2006
mirror-fog style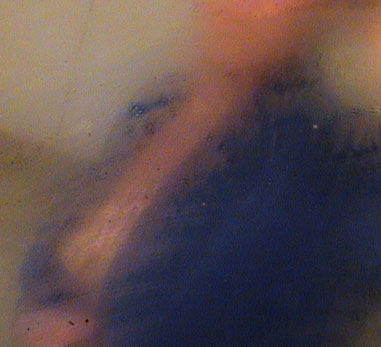 I thought I'd do something a tad different for HNT today... though it's not like my cleavage hasn't appeared here before, in one form or another. this morning, though, I've been in a rush to get ready to drive to the airport to pick somebody up and as I was getting out of the shower I just (finally) clued into the fact that it's actually Thursday again. what with the fog-hazy mirror, it seemed a perfect time and place to do my HNT pic quickly before we leave. this was quite possibly my last completely relaxed moment of the day, the way it's shaping up.


happy HNT to all!
----------------------------------------------------
Half-Nekkid Thursday on the internet
- click to go see more half & fully-nekkid people
Posted at 08:04 am by
loz
take-away link
Thursday, August 24, 2006
seems like the hand may get
permanently deformed into this shape...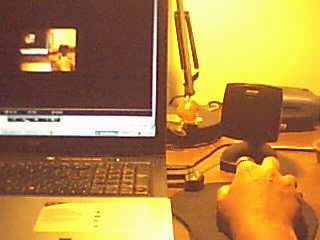 I was having a hard time deciding what to do for HNT today, since I've been mashing my brains under a ton of code in recent weeks (hence no HNT for the last couple weeks). poor old brains are having a hard time getting creative about something not-web-design... what to do??

I thought that showing you a picture of the bags under my eyes - from recent, simultaneous burning of both candle ends - wouldn't be all that appetizing, but
figured
my HNT should somehow express what I've been so busy with over the last few weeks. 'eureka!' I thought, complete with comic strip balloon and illuminating light blub over head... I'll show you my most-frequent activity of late. so here's my hand, doing what it's been most often doing over the last few weeks.

although you can't really tell by this picture, that's my webcam monitor on my laptop's screen, showing a preview of this picture you're looking at now. well, it seemed a tad more interesting than taking a picture of the html page I was just working on, at least.
happy HNT!
----------------------------------------------------
Half-Nekkid Thursday people
- go see them
Posted at 03:26 am by
loz
take-away link
Thursday, August 03, 2006
(oh groan)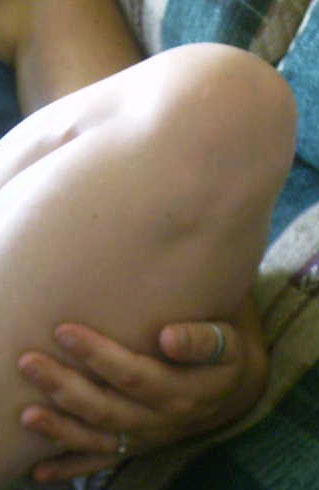 I actually had something planned for HNT this week but I haven't had time to accomplish it, so here is another in the series of pics that were taken with last week's HNT. can you guess what's been cut from this picture? (as I've mentioned before, I have to keep this blog *somewhat* safe, since my kids might visit it sometime). besides, I'm so busy with work today that it's almost noon Thursday as I post this & I've only just remembered that it IS Thursday. next week I'll try to do something specific for HNT.

happy HNT!

----------------------------------------------------
Half-Nekkid Thursday headquarters
Posted at 11:21 am by
loz
take-away link
Thursday, July 27, 2006
feet ...getting to the bottom of it all.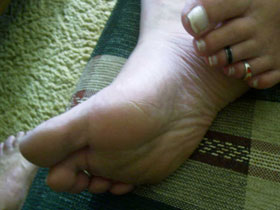 a pic from the past this week since I don't have enough time or imagination for anything else. hmm, must remember to put lotion on these poor, abused appendages. I wear 3 toe rings, by the way; on my left foot are a black band and a Canadian flag (the toe with the flag ring was originally going to be my July 1st hnt), on my right foot is a silver monkey-face toe ring. hot monkey-face toe sex, anyone?



-------------------------------------------------



visit
HNT's home
to discover why we get half-nekkid every Thursday.



Posted at 01:10 am by
loz
take-away link
Thursday, July 20, 2006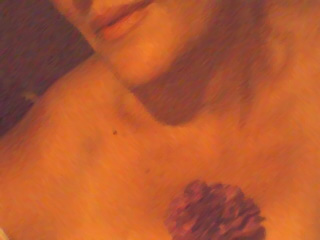 still

captured

time
fades

purple
carnation
memories
remain



---------------------------------------------------------




Half-NekkidThursday
Posted at 04:33 am by
loz
take-away link