waiting ... just anticipating
as Os requested of us, I'm posting my favourite HNT picture from 2006. why is it my favourite?
I feel that there are few things in life as deliciously painful (mentally speaking, though the physical in this case certainly got involved as well) as the high anticipation of a special event; this picture was taken at such a time in my life, and for me it still sparks the imagination of possible pleasures, brings back the memories of the actual pleasures experienced and sparks further imaginings. all that also helps to shape my current life and attitudes.
I think the imagination is quite possibly one of the most powerful forces in life; it's not only behind creative ideas and thoughts, but is responsible for the actual creation of our lives: how we live them, what we experience and the new paths we find to explore. I love my imagination, though at times it can get a bit worrying too and is probably responsible for why I tend to obsessively prod at so many thoughts and possibilities, in my mind.
I posted this picture with a countdown to the special event, which started on July 7, 2006 and lasted for a week of wonderful wickedness. the countdown visually illustrates how focused my mind was on the upcoming trip, for a long period of time prior to embarking upon it. one would think the event couldn't possibly live up to the imagining after all that, but it not only lived up to my speculations but actually surpassed them.
2006 was actually a year chock full of hopeful anticipation and successful wish-fulfillment for me. not to mention new and exciting experiences, as well as being full of opportunities for learning and discovery - both within and without myself. yes, much of it has to do with what I've been open to consider, imagine and venture into, but if it wasn't for one special person none of it would've been likely or perhaps even possible. I don't think I could have imagined most of this, actually, without that person involved... his influence opened my mind to a lot of things I just wasn't considering in any real way before. he opened up whole different worlds for me to explore, from the physical to the mental, emotional and spiritual, and has basically brought something that was mostly missing in my life: fun. and none of that has changed. I figure if I'm really lucky he'll stick around now for a while, & hopefully he'll show up in my next life too (as I'm sure he has in many past ones). I suppose you might consider this long-assed entry a kind of 'thank you' to him, even.
is it any wonder that my favourite HNT picture is connected to this man? somehow it seems fitting that all the other pictures I considered for 'favourite' are also connected to him (not to mention the ones not mentioned below but considered briefly too!):
-
memories
: a picture of us on the last day of the first weekend we physically met;
-
glowing
: memories from the July trip I was anticipating in the 'favourite' picture. I woke one morning to find he'd left that flower - in my favourite colour, purple - for me before he went to work, while I remained sleeping;
-
haiku
: for him - a memory from the last trip I took to see him, in September;
-
black lace
: thinking of him, remembering (plus it's the best picture I have ever had of my actually rather lumpy bum!);
-
bulbs & gifts
: well this one was just fun to do, and rather creative (if I do say so myself), and it was actually meant to provoke him in certain ways (worked :D).
that last one got a reaction I was delighted with, so I'm on a mission now to get the same sort of thing on a rather regular basis (and hopefully make him amused/crazy at the same time). accordingly, I leave you with a new picture taken Christmas night, part of a Xmas tail. he's already seen it, but I'm not above using it again :D.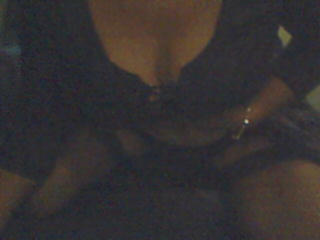 happy HNT; may 2007 bring many more favourites for all.
Happy New Year!

ps: since I have to get up early tomorrow I need to get to bed now, so I'll visit all of you later to see your favourites!