Thursday, October 26, 2006
healing energy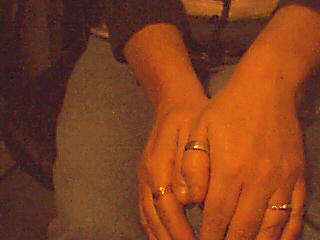 I was sitting here wondering what I should do for HNT this week & realized I could just take a picture of what I actually was doing at that moment. I had my hands on my left knee - my knees are arthritic - and was doing some Reiki to reduce pain.

do you know Reiki? it's an alternative healing method, natural, soothing & non-invasive, that's great for relieving stress & pain and helps to speed up your body's own healing abilities. Reiki works great, for instance, as a support and enhancement (not replacement

)

to medical treatment one might be undergoing, amongst other uses.

click to visit
Reiki by loz
, if you'd like to find out more about this alternative healing method. the site is just recently online, and is sort of a work-in-progress still. I'm also accepting new clients now; being a Reiki master ('master' being a level of training/certification rather than suggesting I'm an expert who knows it all), I do Reiki both hands-on locally as well as distance for anyone in the world.
have a happy - and healthy - HNT, everybody.


----------------------------------------------------
Half-Nekkid Thursday people
(click above)
Posted at 03:15 am by
loz
loz


November 13, 2006 08:57 PM PST



thank you :).
thebareframe


November 13, 2006 09:11 AM PST



it's a lovely, placid pic... very much in the spirit of the practice, I'd say... love the warm cast to the shot...
keda


November 2, 2006 05:37 AM PST



hmmm lovely. i work with reiki too. and my hand are often around my own neck!

happy hnt babe.
loz


October 28, 2006 04:33 PM PDT



thanks for persevering through blogdrive's slowness to visit & comment, everybody. tedious, I know, so I appreciate you taking the trouble.

Felicity: very cool, hope you find it as helpful as I do.

Tara: thanks :).

SeaRabbit: maybe someday you'll let me do a distance for you & then you'll see it's not so scary ;).

Mark: how true!

Ms SD: thank you :).

AmericanNavel: I'm glad :D.

Suze: I may just do that one day! ;) and thanks for the note, etc.

Adam: thank you much, I will (you too!) :).

l.
x
Adam


October 27, 2006 01:36 PM PDT



Happy Healing Hands HNT!

You're Super!

Take care, sweetie!

xx,adam.
AmericanNavel


October 27, 2006 12:44 AM PDT



I feel better already! HHNT!
Sexy Duet


October 26, 2006 08:56 PM PDT



Very interesting. Happy HNT!!!

Ms SD
Mark Leslie


October 26, 2006 07:38 PM PDT



Hands can be so wonderfully healing.....
- - - - - - - - - - - - - - - - - - - - - - - - - - - - - - - - - - - - - - - - - - -




- - - - - - - - - - - - - - - - - - - - - - - - - - - - - - - - - - - - - - - - - - -