Thursday, September 14, 2006
it's behind the eyes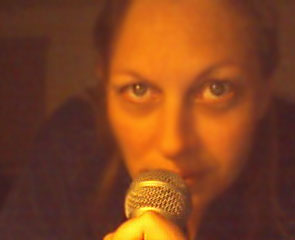 inky stuff, that is.

(it is)


happy HNT.

afterword: I originally left this with just the words above, but perhaps it's unclear that there IS something behind my eyes. and it's inky. you need to employ mouse-tricks to see it though ;).

after-afterword: again to clarify, just in case (though I think the first afterword helped)... click my eyes in the picture. a separate page will open, and you will see/hear why the mic (and the inky-bit) are in this post. on that page, refer to 'switch' & 'succulent', for a couple of mine.

it really is all to do with what's behind the eyes.

----------------------------------------------------
Half-Nekkid Thursday on the internet
- click above to catch more half-nekkid people
Posted at 06:02 am by
loz
loz


September 21, 2006 12:12 AM PDT



thanks Shay :). hhnt.

Andy - thanks for coming by so early! for me it's only *just* turned into Thursday... ie, it's now just 10 minutes past Wednesday-into-Thursday midnight (I'm lucky if I can get my hnt's posted by 5 am Thursday mornings, haha). I'll drop by & see yours & everybody else's after I've got mine posted.

l.
x
Shay


September 20, 2006 07:18 PM PDT



Oh that's a very cool effect!
Happy (b-lated) HNT!!
loz


September 18, 2006 12:28 PM PDT



thanks Randi, it was! still love your monkey PJs, hehe.

l.
x
randi


September 17, 2006 08:39 AM PDT



someday i'll get hip to all the things you can do w/ an hnt.... hope yours was a good one!
loz


September 15, 2006 12:01 AM PDT



thank you muchly Adam :). hhnt! x

SeaRabbit, thank you :). yes, two of the tracks on that page are my voice - the ones called 'switch' and 'succulent'. you might've heard the 'stay doll' too, which is actually done by Lyly, the lady who commented here after you! x

Lyly, thank you :). Gran's doing much better. hope you are well yourself, m'dear. xx
Lyly


September 14, 2006 11:35 PM PDT



very cool : ) thought about you and your gran today, hope things are better.
SeaRabbit


September 14, 2006 09:19 PM PDT



Well... you got EYES my dear... beautiful and so intense!!!
The music is very interesting... Is it you signing..? If it is, you are even more beautiful for that!
adam


September 14, 2006 08:51 PM PDT



Really cool HNT! I love the "click-through" for the eyes. And, the music is great!

Great HNT, LOZ!!

HHNT, always,

adam.
loz


September 14, 2006 07:34 PM PDT



thanks you all... glad you figured out about the eyes ;). if in doubt, when the other page opens - I am part of the core of that project (via internet, since I'm in Canada rather than UK), which is why it's linked from my hnt.

see you next week!

l.
x
wdky


September 14, 2006 09:20 AM PDT



Tell you something, Loz, I really enjoyed listening to them... you guys are good. And I love the photo, btw!

Happy HNT x
Spitfire


September 14, 2006 09:08 AM PDT



There is a cool inky song playing behind those eyes...

I love it!!!!!

HHNT!!
plh


September 14, 2006 09:03 AM PDT



hahaha cute trick w/the eyes ;)
loz


September 14, 2006 08:46 AM PDT



hehe, definitely something inky in those eyes... you just got really look for it. hmm, perhaps I am not being explicit enough ;). happy hnt, you all.
x
Crimson


September 14, 2006 08:02 AM PDT



Neat shot, neat eyes :) HHNT
- - - - - - - - - - - - - - - - - - - - - - - - - - - - - - - - - - - - - - - - - - -




- - - - - - - - - - - - - - - - - - - - - - - - - - - - - - - - - - - - - - - - - - -