Thursday, August 24, 2006
seems like the hand may get
permanently deformed into this shape...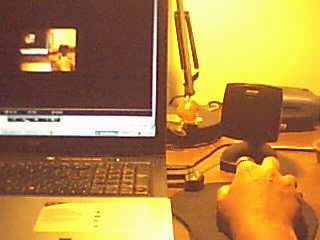 I was having a hard time deciding what to do for HNT today, since I've been mashing my brains under a ton of code in recent weeks (hence no HNT for the last couple weeks). poor old brains are having a hard time getting creative about something not-web-design... what to do??

I thought that showing you a picture of the bags under my eyes - from recent, simultaneous burning of both candle ends - wouldn't be all that appetizing, but
figured
my HNT should somehow express what I've been so busy with over the last few weeks. 'eureka!' I thought, complete with comic strip balloon and illuminating light blub over head... I'll show you my most-frequent activity of late. so here's my hand, doing what it's been most often doing over the last few weeks.

although you can't really tell by this picture, that's my webcam monitor on my laptop's screen, showing a preview of this picture you're looking at now. well, it seemed a tad more interesting than taking a picture of the html page I was just working on, at least.
happy HNT!
----------------------------------------------------
Half-Nekkid Thursday people
- go see them
Posted at 03:26 am by
loz
adam


August 26, 2006 09:52 PM PDT



Hi Loz:

Happy Belated HNT!!

I've been going through a rough time, and have decided to give myself a break from the blogs.

Thank you, for visiting me, HNT...Is that an Apple Computer??.I was all apples, for my eve, this week!!

Several other blogger's used apples in their blog's also, I've heard..Alex & Suze, for one--that was a great one!

Come by, and wish me well, and say Hi..I'll be back, before too long, and I'll be checking back here, each Thursday. You'll find music at my blog..I'll be keeeping that going, and changing up the songs. I left with a Song..the lyrics anyway..for my eve. Come read.

Till I'm back..please don't give up on me..say a prayer, I'll return.

Love your photos..your blog.

xx,adam.
loz


August 24, 2006 10:13 PM PDT



hey Felicity & Lee Ann, thanks for popping in :).

by the way, WDKY, re: my dinky little speaker... I know, cute isn't it? it's part of my Altec Lansing 5.1 surround sound system, and I lurrrrrrve it! I've had these speakers since 2001 & they give great sound. I rue the day they might die!

l.
x
Lee Ann


August 24, 2006 06:51 PM PDT



oooh! take a break and stretch a little!

Happy HNT!
~xo
wdky


August 24, 2006 12:11 PM PDT



Clever. And I love that dinky little speaker!

Happy HNT x
Semi-Celibate Man


August 24, 2006 11:24 AM PDT



I can relate! Nice infinity-style pic on the monitor. HHNT
loz


August 24, 2006 08:21 AM PDT



hey Tragic, thanks & hhnt :).

thanks Suze, I know they'd turn out spectacular if you were taking them!

true MsSD, I'll remember that ;).

thanks Mark, and yup, it does indeed.
Mark Leslie


August 24, 2006 06:18 AM PDT



What a cool shot - liking it - it also seems to represent the endless work hours you've been facing. Happy HNT!
Sexy Duet


August 24, 2006 06:17 AM PDT



Dont forget to take a break now and then for some fun, everyone needs playtime. Happy HNT!

Ms SD
loz


August 24, 2006 05:24 AM PDT



hah, true Nic... but they're the kind I can't post here (kidlets). must enlist your help next time to get some 'in-betweens' ;). x
Nic


August 24, 2006 04:58 AM PDT



but darlin I have supplied you with enough pics to keep you in hnt material through 2007
- - - - - - - - - - - - - - - - - - - - - - - - - - - - - - - - - - - - - - - - - - -




- - - - - - - - - - - - - - - - - - - - - - - - - - - - - - - - - - - - - - - - - - -