Thursday, January 19, 2006
hnt

ear today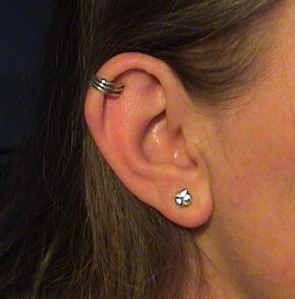 the ear is certainly an odd bit of construction, don't you think?



I figured this would be a good opportunity to have a look at my ear from a different perspective. I had no idea that my ear is so shiny inside! perhaps that's why I can be such a good listener... the words easily slide on down that slippery slope where they get caught in some internal sling & are bounced around the edges of my brain during contemplation.
Posted at 10:05 am by
loz
Robin


January 19, 2006 09:18 PM PST



I never thought about my ears being shiny. I guess I'll have to pay more attention to my various and assorted body parts. HHNT
MamaKBear


January 19, 2006 05:41 PM PST



YOu've got such a cute ear...don't ya love when someone nibbles on them?

HappY HNT! :)
Gabby


January 19, 2006 04:50 PM PST



Yes, ears are peculiar - but kind of sexy too!

Happy HNT!
Name


January 19, 2006 01:48 PM PST



happy HNT
Susie


January 19, 2006 01:15 PM PST



Your ear is pretty cute! Happy HNT
Wenchy


January 19, 2006 12:09 PM PST



Did that top piercing hurt???