Thursday, June 29, 2006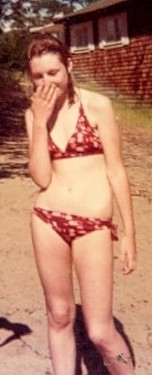 I'd forgotten all about some pictures of mine until the other day, but apparently I was into HNT (to some degree) a few years back & didn't even realize it, hahaha.
what happened is that I met this guy online in 2001 or so, and he asked me if I would give him naked pictures of myself. he wasn't the first (or last) to ask, but he was the first one I actually decided to answer with actual pictures. it took me about half a second to figure out how I'd do this, worked it all out (using free web space and and almost no layout at all since I was just starting to play around with this web design stuff) and then I gave him the following URL to go find my naked pics...




lozflesh revealed
(opens in a new window)
the picture here, by the way, is one of me at 13, at Gyro Beach in Kelowna BC (that's Canada, eh? and a happy early Canada Day, to any Canadians who stop by). anybody know Gyro Beach?

hmm, that was probably the last time I could fit properly into a bikini, too.


~~~~~~~~~~~~~~~~~~~~~~~~~~~~~~~~~~


get
Half-Nekkid (on) Thursdays
with the rest of us.



Posted at 07:59 am by
loz
Sexy Duet


June 29, 2006 05:38 PM PDT



Its always fun looking back at old photos. Love the shots on the other page. HHNT!
Backdoor Slider


June 29, 2006 04:15 PM PDT



hehe that was funny!!!

HHNT
Semi-Celibate Man


June 29, 2006 10:52 AM PDT



Cute 13 year old, who I'm guessing has grown up into a cuter adult! Happy HNT
wdky


June 29, 2006 10:02 AM PDT



Those were the days, eh? Oh, and the other sites very funny :-)

Happy HNT x
Crimson


June 29, 2006 09:17 AM PDT



cute :)
- - - - - - - - - - - - - - - - - - - - - - - - - - - - - - - - - - - - - - - - - - -




- - - - - - - - - - - - - - - - - - - - - - - - - - - - - - - - - - - - - - - - - - -