Friday, June 02, 2006
dreamish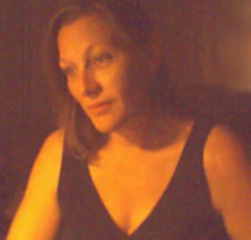 it's early Friday morning as I post this. last night I suddenly realized that
Half-Nekkid Thursday
had almost passed and I pretty much missed it, so while I was sitting at the computer thinking (dreaming) on things I've been thinking (anticipating) on recently, I just snapped a few random pics with my cam & chose the best one to slap up here.

happy belated hnt.

---------------------------------------------------------


click the nice little hnt box on the left side of the page to see guidelines for Half-Nekkid Thursdays
Posted at 05:39 am by
loz
loz


July 24, 2006 05:43 PM PDT



wow, thanks you all, your kind words are very much appreciated :).

l.
x
Leatherargento


July 21, 2006 11:59 AM PDT



Why is it that all the really hot babes are from Ontario and BC these days? Your bone structure and your eyes are pure Rembrandt, loz... Beautiful...
chrysalis


June 19, 2006 01:19 AM PDT



Such a sensual look, Loz ... great picture of you. Soft lighting gives it a dreamy quality ...
Suuny Delight


June 8, 2006 05:14 AM PDT



lovely dreaming! HHNT!
Sexy Duet


June 3, 2006 02:10 AM PDT



Nice to see we werent the only late ones this week. Nice pic, I think sometimes the best ones are the ones we spend less time thinking about. HHNT!
cherrie


June 2, 2006 07:50 PM PDT



A lovely view! There's no reason HNT shots must be of naughty bits. I love the contemplative look on your face.
loz


June 2, 2006 03:49 PM PDT



thank you all for popping in (especially since it's late!). hopefully next week will be a tad more 'on time' ish.

l
x
Crimson


June 2, 2006 12:00 PM PDT



Very nice ;) HHNT
Name


June 2, 2006 08:00 AM PDT



Yeah, I think HNT caught alot of people off-guard this week!
- - - - - - - - - - - - - - - - - - - - - - - - - - - - - - - - - - - - - - - - - - -




- - - - - - - - - - - - - - - - - - - - - - - - - - - - - - - - - - - - - - - - - - -