Friday, May 12, 2006
....and suede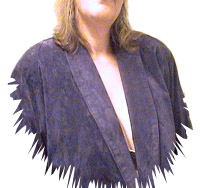 happy birthday to me (May 6th)... one of my favourite birthday presents. of course, they're all rather favourite, with me :). this, though... I started off looking for just a jean jacket, but when I saw this I had to have it too. I mean, a purple jacket?! and suede, yet... it's a feast for the fingers, really. now I'll just have to try not to get caught stroking myself too much, whenever I wear it in public.



- - - - - - - - - - - - - - - - - - - - - - - - - - -





why?
hnt
, of course.
Posted at 03:42 am by
loz
HNB


May 12, 2006 05:09 PM PDT



Happy belated birthday. That's a gorgeous jacket.
Susie


May 12, 2006 07:56 AM PDT



suede
you always felt like suede
there are days i feel your twin
peekaboo
hiding underneath your skin....
Tori Amos

Hey! I always buy my own birthday presents! It's such a good idea!

Happy Birthday honey, and I always like to visit the very last poster for HNT because last is not least! HHNT Miss!

- - - - - - - - - - - - - - - - - - - - - - - - - - - - - - - - - - - - - - - - - - -




- - - - - - - - - - - - - - - - - - - - - - - - - - - - - - - - - - - - - - - - - - -